As digital marketing enthusiasts, all of us are aware of the unparalleled importance of creating a
well-designed content marketing strategy. And, of course, the exponential growth it can deliver if you get everything right!
However, like any other segment of advertising, content marketing, too, carries a host of rumors and misconceptions that cloud our judgment. And, the following is one of them –
"The longer your written blog is, the better it will perform in terms of SEO!" Frankly speaking, that's not entirely true!
Long-form content isn't essentially better than short-form ones. As with several other aspects of SEO, it will depend on the tone and intent of your write-up.
So, how are you going to understand if writing a long-form article for your blog section will be overkill or not?
Don't worry, we've got your back!
In this guide, we will tell you a few ways to determine how much you should write depending on the topic at hand.
Long Form Content Vs. Short Form Content – Which ShouldDo you Focus On For SEO?
But, before we dive deeper into the rabbit hole, let us enlist what you're going to learn –
What is long-form content?
The definition and formats of short-form content
Is the length of your write-up important?
A guide to deciding the length of your content
So, let's begin venturing through the pressing matters right away!
Long-Form Vs Short-Form – A NeverEnding Debate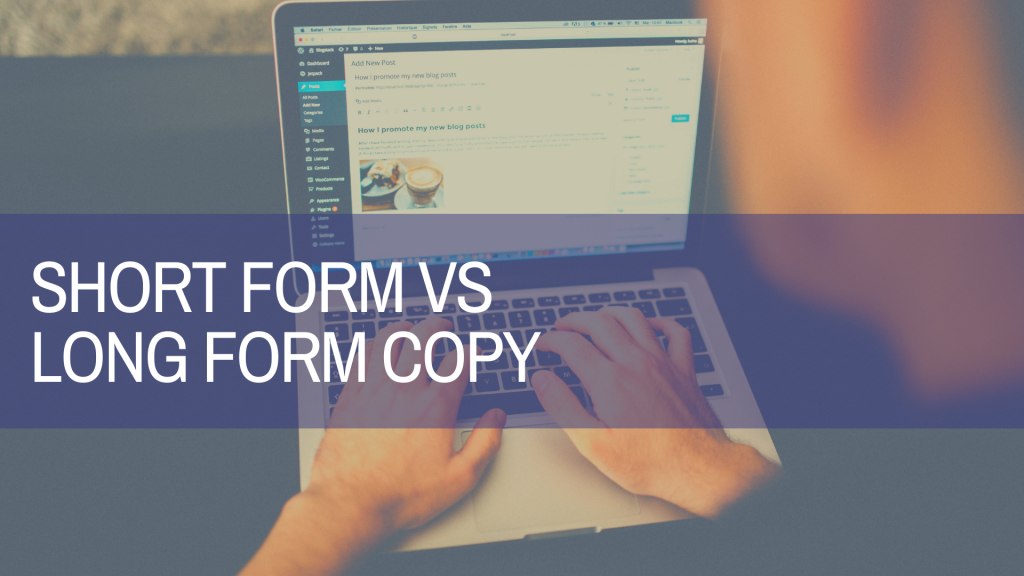 Before you can determine the content length, you will need to have a clear idea regarding the definition of short-form and long-form content. Here are some details that can help you with it.
What Is Long-Form Content?
A long-form blog typically constitutes around or more than 1000 words. When you are writing such content, you have to delve deeper into the topic and cover every possible information through it. The formats of long-form content will include –
Evergreen blogs
Lengthy and details articles
Tutorials and guides
e-Books and whitepapers
Virtual events and webinars
Pillar pages
A long-form blog isn't your regular quick-to-consume content due to the amount of information it offers. It
specifically aims to inform or educate the audience and helps them find answers to a specific question that's
troubling them. If written while keeping the user intent in mind, long-form writing can create the backbone of a unique SEO strategy.
What Is Short-Form Content?
Contrary to the previous option, a short-form blog will carry somewhere between 500-1000 words in length.
Hence, in this aspect, you have to select a topic that's short, crisp, and easy to digest. Some of the common short-form content formats may include –
News articles
Short articles
Social media content
News articles
Emails
The goal of a short-form post should be to send the message you want to convey to your audience directly.
In our opinion, it's best to share one idea through content and keep it as simplistic as possible. Just make sure to keep the tone as engaging as possible. sure to keep the tone as engaging as possible.
Should The Length Of Your Content Matter?
Yes, the length of your content matters much more than you can imagine, both from the SEO and user-related viewpoint.
However, it doesn't mean that you should think that longer content is better than shorter
ones.
So, what's our point?
Well, in our opinion, your content length should depend on the objectives you've set and the purpose you want to serve through it. And, for that, you have to focus on two aspects-
The search intent of the user
Choosing the right format for the content
However, there's an exception.
According to a research module, long-form content performs significantly well when it comes to getting
backlinks for your website. And, the same goes for organic searches as well!
Why?
It's because a few search queries require a blog to cover the subject in great depth. And, if you don't do that,
you won't be able to fulfill the "following user intent" requirement of the search engines. So, in case another
website offers more information on the same topic, their chance of ranking higher will increase even more.
How To Decide The Length Of Your Content?
In reality, both short-form and long-form content have their importance, in terms of SEO and serving
specific user intent. Therefore, we would ask you to balance them to meet the requirements of your audience.
In this guide, we will tell you how you can determine the length of your content by considering three factors.
Here's what you need to know about them.
Consideration – 1: What Does Your Audience Want?

Before you begin writing exclusively on a topic, you'll need to know what your audience wants from you.
For example, if you are writing about a guide, you have to explain the pain points of your readers first. Once
you're done, you can, then, move on to solving their problems. So, in that case, it would naturally become
long-form content for you.
Here are some questions that you should ask yourself to understand what your audience wants better –
What type of content has the highest conversion rate in your niche?
Which form of the article has the best session duration and lowest bounce rate?
What kind of posts is driving more engagement on social media?
The more insights you can get from your audience, the more prepared you will be while curating the next
steps of your strategies.
Consideration – 2: What Is Your Aim?
If you aren't aware of the path you are taking, how would you know what's out there waiting for you at the end?
Right?
That's precisely why we always ask everyone to determine their goal of content marketing before taking another step into the universe. However, the aspect of setting an aim shouldn't only depend on your overall content strategy. You have to imply it on every blog you curate. Otherwise, it will impossible for you to serve your user intent properly and offer proper guidance to your audience.
Let's take an example or two to understand our point better.
If you're aiming to raise awareness of a brand new product launch, sending a concise and to-the-point mail should be an effective strategy. So, creating short-form content should be your go-to option in this respect.
Conversely, if you want to rank higher on Google on a competitive search term, you must write a long-form
blog.
Consideration – 3: What Should Your Conversion Path Be?
So, have you found out what your goal and audience's search intent are?
Great!
Now, let's move on to the next and final consideration – your conversion path.
How many touchpoints do you think a potential customer makes before converting into a regular consumer?
Yes, you'll need to consider this point as well when it comes to deciding between writing short-form and long-form content.
For instance, the conversion window for an eCommerce retailer is pretty short, particularly due to the low
order value. Hence, they can release short-form posts on social media to drive sales and boost their conversion rate massively. However, the same strategy will not apply to a B2B software platform. They have to pave their
conversion path by nurturing their audience through informative and educational content. And, the publishing must be done over time, instead of uploading everything at once.
Frequently Asked Questions (FAQs)
-1. What Are Long-Form And Short Form?
A short-form post tends to carry around 500-1,000 words. The purpose of the content is to be crisp and to the point. On the other hand, a long-form blog will be much more insightful and consist of more than 1,200 words.
2. What Are Examples Of Long Form Content?
Some of the common examples of long-form content are –
Definitive guides
Case studies
White papers
eBooks
Reviews and roundups
Datasheets and brochures
– How do you write A Good Long-Form Article?
Here are some tips that can help you write long-form articles for your website's blog section –
Keep user intent in mind.
Write in a simple yet informative tone.
Choose a high-volume focus keyword and use it evenly throughout the content.
Avoid writing longer sentences.
The word count should be higher than 1,500 words.
Finalizing It Up!
Let's be honest – writing SEO-optimized, high-quality content can be extremely challenging for anyone. And,
if you already have your plates full (which is quite obvious for a marketer), jotting down your expertise on a
the topic will be impossible.
So, are you still considering tackling your plan all alone? Or, do you need a hand?
If so, you can reach us at Appledew today. We are a full-fledged content writing agency that utilizes a content-first approach to engage consumers, educate audiences, and drive excellent link acquisition.
Due to our experience and expertise, we'll establish the right branding voice through your blogs and ensure that it ranks on the SERPs.
Aside from writing regular articles, we can also help you with curating newsletters, guides, case studies, whitepapers, web page content, etc.
Therefore, contact us today to start your content writing and marketing journey as soon as possible!